Our Story
River City Labs was first founded in 2012 by one of Australia's most successful tech entrepreneurs and Australian TV Series, Shark Tank investor, Steve Baxter. Since 2012, over 700 startup founders have called RCL home. We have hosted over 1,000 events, aimed at supporting founders on their entrepreneurship journey, and have welcomed more than 29,000 guests into our community.
In 2018, RCL was acquired by Australian Computer Society, The Professional Association of Information and Computer Technology, bringing a fresh set of ideas and vision to support the growth of Brisbane startups.
River City Labs is focused on being the catalyst for the Brisbane startup ecosystem,
and driving startups to the international stage.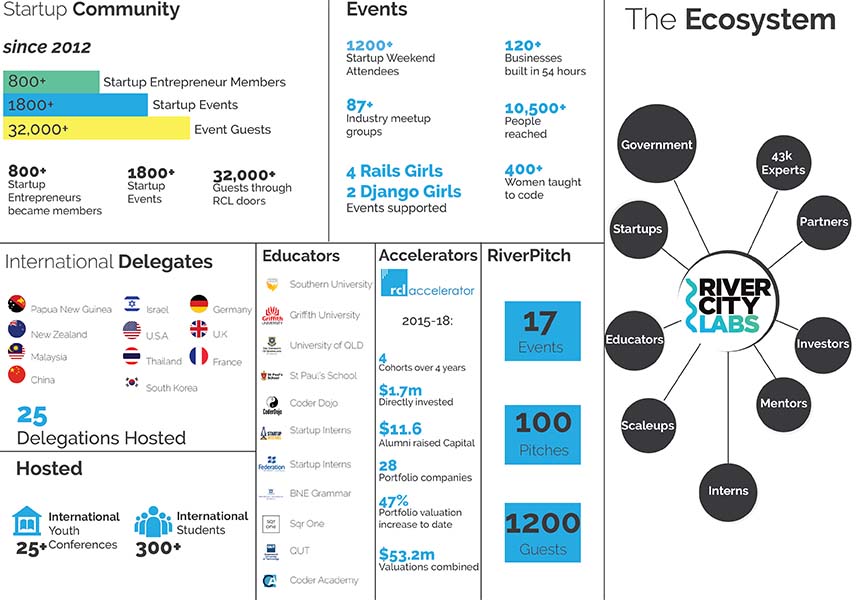 Meet Our Team
At River City Labs, we love to show off the awesome humans that run our company.
Each and every one of our superstar team members are a representation of the RCL brand: committed, passionate and driven. We each bring together our operational expertise, experience, and networks to inspire, empower and support our community, partners and suppliers.
Through our internship program, we also work with university students who offer value and a unique set of ideas to RCL,
whilst we provide them with an exciting opportunity to bridge their gap between theory and practice.
Community and Operations Officer