Elevating Female Founders
At River City Labs we strive to be the catalyst for tech innovation and Emerging Tech Companies solving global problems, we propose using our deep experience and network to help Elevate Female Founders to take their businesses to the next level

We will meet you where you as an entrepreneur on your business journey and provide a bespoke mix of cohort-based and 1:1 support initiative that guide you to your goal no matter where your starting point is. So, if you are at the seed of an idea to a flourishing business, our program can support your journey.

Entry Criteria
Applications will open to :
Female Founders
Must be a resident or have a Business registered in Queensland, Australia.
Must be a *Tech Startup (Tech Startup companies deliver new technology to the market; or disrupt and transform existing products of services with Technology. Tech Startups have the high potential to grow across Markets).
Completed Applications including detail on your idea or business.
Ability to attend a Panel Interview (Virtually) once applications close.
Ability to dedicate a minimum of 10 hours per week on the program for the first 4 months dedicated support with 10 hours per fortnight for the duration upto 8 months. This does not include working on your business.
Ability to travel to Brisbane, Australia twice potentially between July and August 2024.
More about the program:
Duration will be 8 months. With the first 4 months structured delivery, with a reduced structure last 4 months.
The program will be made up of two streams early-stage companies (Pre-Product) and later stage companies (Post-Product).
The program will include:

dedicated workshops to enable your goals.
Industry connections and mentoring
Dedicated Entrepreneur In Residence support (Female Founder Mentors)

You will receive access to RCL membership for 12 months starting at Program Start:

RCL Member T-shirt
All RCL Partner and Digital perks valued up to $280K
For example. Discounts and credits Tech Subscriptions, Hosting Services with Tech Partners, CRMs and RCL other Programs and resources.
Access to RCL's Talent Landing Pad Pool of interns and tech professionals
Access to RCL's Mentor Database, where you can book meetings with industry professionals across many domains
Access to the CA In-Residence Program, offering members free chartered accountant advisory services
Invites to events, learning and networking sessions
Referrals into networks and business opportunities
All applications will be reviewed and select applicants will be invited to pitch their idea or Startup to a Private Panel online.
Applicants can nominate which Pre-Accelerator they are applying for within application.
Successful applicants will be invited to the Pre-Accelerator Program they will benefit the most from.
Successful Applicants will be notified at least 2 weeks if not earlier prior to the program start date
Unsuccessful applicants will be notified prior to the program starting.
20 successful applicants will be part of ether a earlier stage or later stage Elevating Female Founders Program for this intake.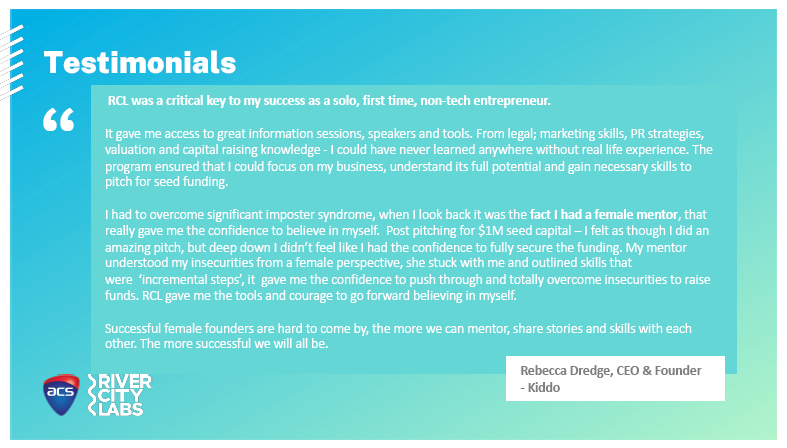 Program begins November 2023!